Virtual Jumpstart Workshop
04/22/2020 @ 10:30 am

-

04/28/2020 @ 1:30 pm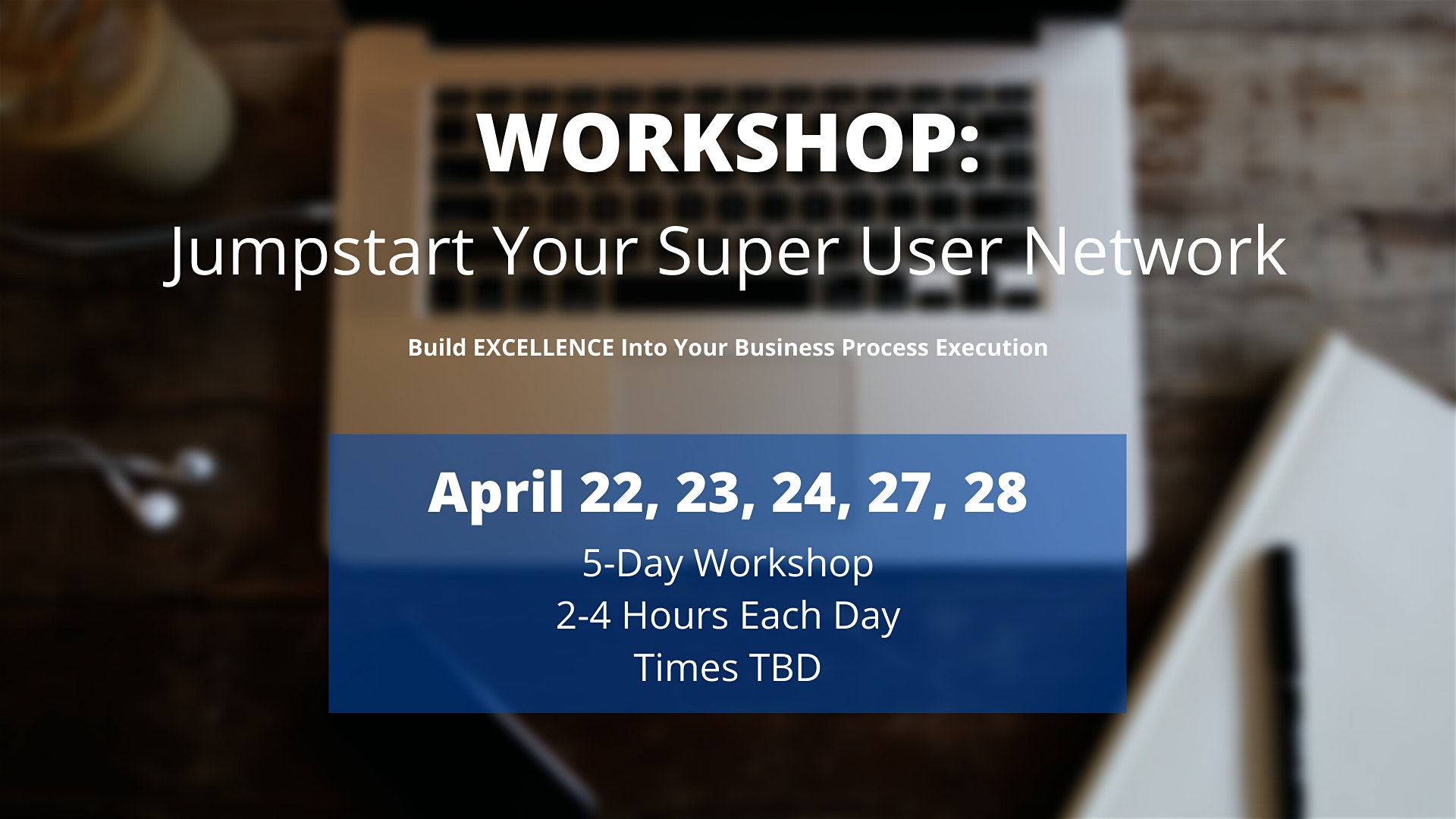 Are you ready for Business Process EXECUTION Excellence?
Then you are ready for this ground-breaking workshop to Jumpstart your roadmap for building your sustainable, high-value Super User Network.
Don't miss this open workshop where SUNsource Founder and Super User expert, Ginger Luttrell, will pair up with SUNsource certified Super User Network Coach, Rob Ludwig to share their 30+ years of combined Super User experience on how to build a world-class Super User Network that drives business process excellence through well planned, sustained, and matured execution within your business operations.

Guest experts will join for open Q&A to enhance the learning and provide valuable insights and suggestions for next steps.
Want to see a 30-minute workshop teaser video? Click here.
The Jumpstart Workshop Includes:
Step 1: Foundation

Clear & consistent WHY – Well researched APPROACH – Strong EXECUTIVE SPONSOR
Step 2: Framework
Right sized COMMUNICATION – So much more than a LIST – Align & Bind team -KICKOFF-
Step 3: Build
Build to last with WHO & HOW – Show VALUE, establish FOCUS – Collaborative support with PARTNERS
Step 4: Improve
PREDICTABLE performance – From selling to PROVING VALUE – ESTABLISHED organizational entity
What else do I get?

Coaching from Ginger Luttrell, Founder of SUNsource, award-winning Super User Expert

Coaching from Rob Ludwig, SUNsource Certified Super User Network Coach

Exposure to award-winning SUNsource SUPERmodel

Personalized action plan to start building or strengthening/maturing your SUN

Free SUNsource Membership for 1 year

Free 30-minute post-workshop private coaching session

Additional goodies and insights from our guest experts
What if I don't find this workshop valuable?
Oh, you will!! But if you attend the workshop and you're totally unhappy with it, we will refund your workshop ticket. No joke! We've got you covered.
So what are you waiting for? Come be SUPER!